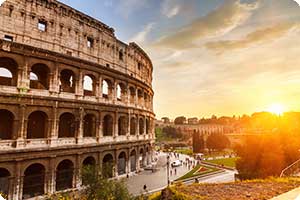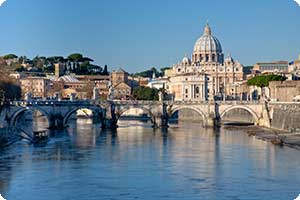 Facts About Rome
Truly one of the world's great cities, Rome is a place of unrivaled historical and artistic treasures. From the early days of the prominent Roman Republic two and a half millenia ago, through the height of the almighty Roman Empire, overseeing the emergence of Christianity and the Catholic Church, playing centre stage for the Italian Renaissance and later for the political and architectural ambitions of Mussolini and the Italian Fascists, it is simply impossible to overstate Rome's vital role in the development of the modern Western world. But far from being an ancient ruin resting on its historical laurels, Rome is a vibrant, modern European capital that is embracing the 21st century with as much vigour and flair as any of its contemporaries.
Rome Airports
For such a large city and attractive destination, Rome is remarkably easy to reach, whether by low-cost European airlines or luxurious long-haul carriers. The city is served by two major airports, both of which have fantastic transport links to the city centre.
Fiumicino International Airport
Also known as Leonardo da Vinci Airport, this is Rome's primary hub and one of Europe's busiest airports, receiving direct daily flights from all major European destinations and dozens of long-haul international routes. Fiumicino is an extremely efficient, modern airport boasting state-of-the-art facilities. Visitors will have little need to stress or fuss after arriving, as Fiumicino offers all services one may require - delicious restaurants and great shops, as well as fantastic transport including a regular express train connection to Rome's central station, plentiful taxis, easy hotel transfers, or local bus routes.
Ciampino International Airport
Ciampino is the ideal destination for travelers in a hurry or on a budget, as it is the home of several low-cost carriers arriving from dozens of major European cities and is located remarkably close to the city. A charming and modest airport given its traffic, Ciampino is a nice change for travelers used to long queues or arrival delays. Thanks to its location several bus routes operate from Ciampino directly to the centre of Rome for very reasonable prices, and trains from nearby Ciampino (town) run to Rome's central Termini station.
Rome Sites and Activities
It would take a lifetime, at least, to take in all the wonders Rome has to offer. The grandiose avenues and quieter side streets spreading out from Piazza della Repubblica are a fantastic place to drink an espresso and watch the wonderful pace of daily Roman life, while strolling the riverside avenues are a great way to soak up the city's atmosphere. Those wanting more specific targets will have no trouble: art lovers can marvel at the majestic beauty of Michelangelo's Sistine Chapel, history buffs can transport themselves back 2,000 years at the mighty Colosseum and Roman Forum, sports fans can catch a top-flight football match at the main stadium of the 1960 Olympic Games, and everybody can recreate the wonderful scenes of 'Roman Holiday' on the iconic Spanish Steps.