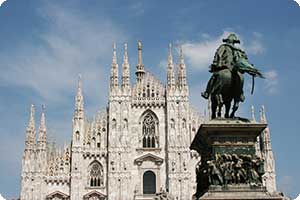 Facts about Milan
Milan is one of Europe's most vibrant and exciting destinations. Italy's undoubted leader in finance and fashion, Milan is a melting- of modern Italian culture that it as the absolute cutting-edge in everything from technology to food. Given this modern face, it's easy to forget that Milan was an important centre as far back as the rule of the Roman Empire. But the city has not forgotten its illustrious past in place of its bright present, and it is hard to think of many places that balance the old and the new as tastefully as Milan does.
Milan airports
A major transport hub of northern Italy and Western/Central Europe, Milan is served by hundreds of direct flights from a multitude of airlines, and it is possible to reach Milan quickly and cheaply from almost anywhere in the world, particularly within Europe. Milan is lucky enough to be served by three major airports:
Malpensa
The largest and busiest of Milan's airports, Malpensa, is the point of arrival for routes from destinations all around the world. There are several transport options for visitors to reach the city centre, including the express train to Milan's central station, several bus routes, or one of a multitude of taxis. Malpensa is a very modern, efficient airport with all state-of-the-art facilities travelers may require.
Linate
The main airport for domestic flights and some flights from around Europe, Linate is located less than 5 miles from Milan's city centre. Therefore it is served by the city's reasonably priced and extremely efficient local bus system, making it an ideal destination for travelers on a budget, under time restraints, or wanting to visit Milan from within Italy.
Bergamo Orio al Serio
Playing host to low cost airlines arriving from cities all throughout Europe, Orio al Serio is a fantastic entry point to explore Milan or the surrounding area. Located just north-east of Milan, buses run regularly to the city centre. Travelers can also get a train from nearby Bergamo to the city centre. The airport is extremely conveniently placed for brief excursions to the wonderful countryside surrounding Milan, such as the indescribable beauty of Lake Como or the famous cheese-making town of Gorgonzola.
Milan sites and activities
The ultimate symbol of Milan is the awe-inspiring Duomo, one of the most important works of Gothic architecture worldwide, which offers spectacular panoramic views from its roof. If the intricate artwork of the Duomo's statues and spires are not enough, art lovers will be more than satisfied by the remarkable collection at Pinacoteca di Brera, one of Italy's most important art museums. However, Milan offers much more than its stunning art and architecture: for a large city it has a phenomenal wealth of beautiful public parks, such as Sempione; two of Europe's most famous football teams, AC and Inter Milan, play at the famous San Siro stadium; and the city's wealth of cafes offer a taste of Milan's famous food culture, arguably led by the delicious saffron-based 'Risotto alla Milanese'.