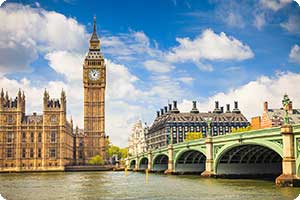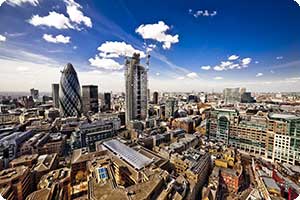 Facts about London
Vibrant and exciting as it is historically fascinating, there are millions of words that can be used to describe London but boring is not among them. From an ancient Roman city to a major Medieval marketplace, from the centre of one of the world's greatest ever empires to a super modern international financial centre, London has thousands of faces for the visitor to discover. Far from being stuck in its illustrious past, London is one of the world's most cosmopolitan cities, a unique melting pot of cultures reflected in its world leading cultural and culinary scene. Whatever a traveller's preferences and interests, London is guaranteed to provide for them.
London Airports
London is a huge international air travel hub and it is very easy to book flights to or from the city. A major point of entry to Europe and gateway to the rest of the world, London is close to many airports but primarily served by three:
Heathrow
The busiest airport in the world, Heathrow simply provides everything. Long haul flights as far away as Asia and South America, as well as hundreds of daily flights between major European, North American and Middle Eastern cities. The facilities and services are state-of-the-art, including hotels, restaurants, shops, currency exchange, booking agencies, rental car companies and anything else visitors may require upon arrival. Heathrow is served by excellent transport connections to all areas of London at any time of day, including the iconic London Underground, the 'Tube'.
Gatwick
Also a gigantic airport, Gatwick can be reached by a vast range of international flights from all over the world. As such, like Heathrow, it has a full range of services for passengers upon arrival and it has an array of transport options into the city to suit any travel budget – including city buses and a direct express train to London's Victoria Station.
Stansted
Whilst smaller than Gatwick and Heathrow, Stansted is a major hub for low cost carriers, particularly throughout Europe. Flights from all corners of the country and the continent arrive here and the airport boasts great facilities including Wi-Fi, shops and restaurants. Although a reasonable distance from London's city centre, Stansted is served by frequent buses and trains to Victoria and Liverpool Stations, while it is also a great location from where to visit nearby cities such as Cambridge.
London sites and activities
A good starting point from which to get your bearings, the London Eye is an attraction in itself and also offers spectacular views over the city. A walk to the Thames allows visitors to explore the many wonders of London's inner city, including the fabulous Tate Modern gallery from where one can get the best view across the river to Christopher Wren's magnificent St. Paul's Cathedral. Tucked away behind theatreland, the streets of Soho and Chinatown with their wonderful array of sights and smells are also the place to be come sundown, as they are the home of some of London's best nightlife.